Class Shirt Design: A
Great for up to 400 signatures or typed names.

This Class Year We Strongly Recommend Using Typed Names Instead of Signatures.
Using typed names instead of signatures can help prevent accidental spread of COVID-19.


Collecting class signatures requires each student to sign the signature page. In order to prevent accidental transmission, we recommend using a typed names list for your order this school year. If your class is studying remotely, it is difficult to find a reasonable way to collect a signature for each student. Even if we were able to collect each individual signature separately, managing individual independent signatures is very time consuming. If you have a special need or idea to help with collecting signatures safely, please let us know. We know this year is going to be a little different and we wan to hear your thoughts and help! Please give us a call or email your ideas to schools@special-tees.com
Use Your Class List for This Year's Class Shirt Design!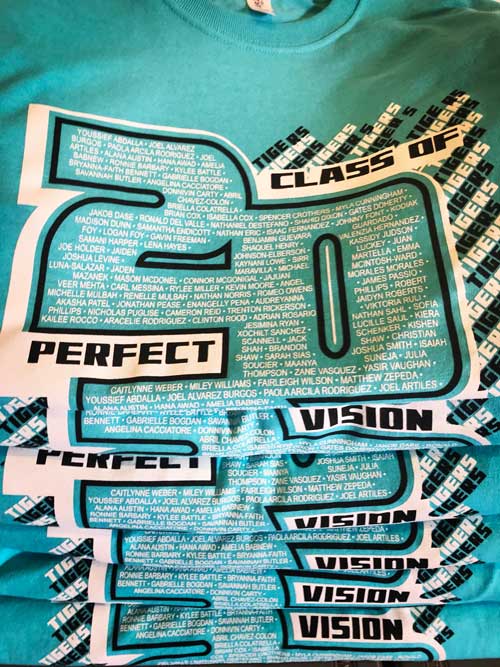 Perfect for Classes with Students Studying Remotely
Our School Catalog Program is famous for incorporating typed names or signatures into an awesome celebratory class design. With remote/distance learning in place, it becomes difficult or even risky to capture student signatures. Don't worry! We can help! Just send us your names list and we will plug the names into your chosen design. See below for more details and to upload your names list.
AVOID ART FEES. Make Sure Your List of Names is 100% Accurate
We strive to make sure each name appears in-full at least one time within your design. This means we try to make sure "Sarah Smith" is all on one line and not "Sarah" on one line and "Smith" on the beginning of the next line. Please be sure to only send us your proof-read, final version of your names list.. Removing or adding just one name out of the batch after we have created your proof can lead to hours of additional work to adjust all the names again to fit. If you artwork needs a revision due to inaccurate names that is not due to our error, an art fee of $50 will apply. Please make sure to consider if your formatting is for First Name/Last name. If the last name appears first in your format, it will appear that way in your artwork.

Arranging Typed Names Into Your Design Takes Time and
Acceptable Formats for Typed Names: Google Doc, Microsoft Excel, Word, or email a Google Drive or Dropbox Link to schools@special-tees.com
For smaller classes, it helps to repeat the names to fill out the space. name. If you do not want the names repeated, just let us know. For certain designs, repeated names may be recommended so the layout looks full. If you would rather us place the names randomly, and individually to mimic the signature style, we are happy to do this for $0.25 per name. Please make sure all names appear in the correct format. The first names should be in the first column and the last name should be in the second column.
Have You Already Submitted Your Order or Pre Proof Request and Need to Upload Your Names List?
Need a School Catalog Pre Proof or "mock up" before you order?
Choose the option below that best fits your needs, budget, and school process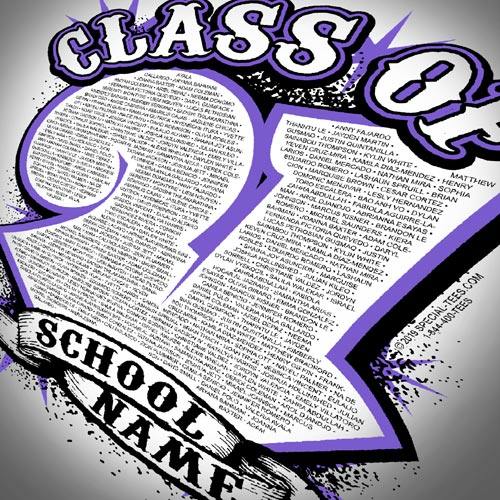 SIMPLE PRE PROOF - Free! No Charge!
This service is only free when associated with an upcoming order. This one free Pre Proof will simply show the design on the color garment with the ink colors chosen. Please do not request a pre proof unless you intend to place an order within the next 30 calendar days. No specifications or changes will be made to the design for simple pre proofs. Please check out our Class of 2021 designs - already shown on many colors for inspiration.
If you need multiple versions to choose from, we are happy to help. Please reference the details for a small deposit below. Limit 3 options.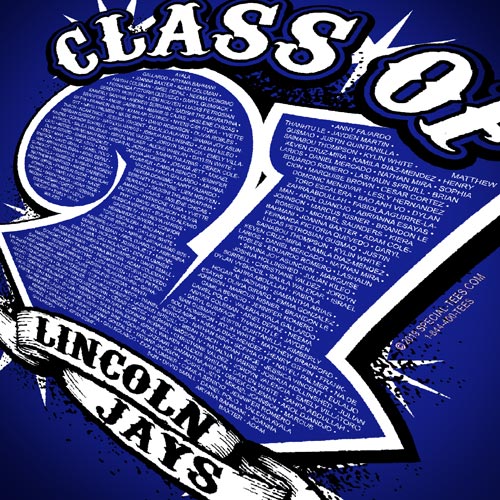 CUSTOMIZED PROOF - Small Deposit Required (Refundable*)

If you are not ready to place your order now, but need a custom pre proof ahead of time to show off or present to your principal, a small deposit is required to cover art time since there is not yet an order. This deposit can be put towards the order balance or refunded* via check *as long as the order is placed within 30 calendar days of the pre-proof being emailed. The final order also must be fully approved promptly within 5 days after submission. Working on your requests is our passion and an honor. We will start the design process as soon as the deposit has been received. Please allow 1-3 business days for custom pre-proof requests.Thank you for understanding that custom art or multiple versions of a simple pre proof takes time. Non-refunded deposits ultimately accounts for our employees time and helps protect our business when no order is placed for the requested artwork. Please review our Terms of Service for more details about your deposit, when and how it will be refunded, and when it will be forfeited.
please be sure to have all the details of your design ready to share.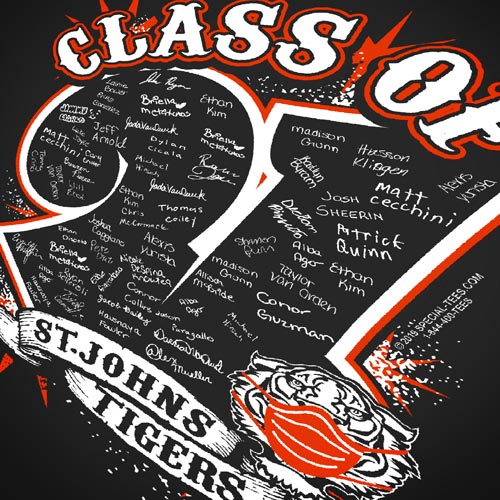 COMPLEX ART - Art Time Necessary Based on Complexity
Some customers want to go beyond customization. Some designs are simple, while others are complex and take time. Sometimes customers do not have access to the correct art files for the school logo or mascot. We are here to help! Please supply us with all the details and we will review the specifics of your request. We will will let you know if an art fee, or deposit. If the order is through the school, approval to bill the school may be required before we start the artwork in the event no order is placed. In some cases the deposit will be refunded. In more complex cases an art fee is needed to cover the time required to create the request.
please be sure to have all the details of your design ready to share.